To Tinder or not to Tinder… that is the question!
June 11, 2014
Being one of those newly single types, people right, left and centre were telling me to get my neglected butt on Tinder…but what the heck is Tinder?
On the surface it's a sort of Hot or Not for local people, but with the promise of being able to chat to and possibly meet up with perfect strangers. You set an age range and distance and then swipe through photo after photo – left for no, right for yes. If they swipe right on you too, it's a match and you get to converse.
So basically, it's superficial and an easy way to wind up being held prisoner in some random (but local) dude's sex dungeon – well, that's what I thought anyway. But after a couple of weeks of playing with the weirdly addictive app, would I recommend it to others?
Here's what I made of it…
It's a good way to meet new and interesting people.
You will meet a whole bunch of people from all different backgrounds, and you will hit it off with some of them immediately. It doesn't matter how handsome that guy you swiped right is, you'll know pretty quickly if he's about as much fun as a cervical smear and those pearly white teeth and sparkling eyes will soon fade right off your radar. I found myself chatting with some guys and just instantly wishing we were best friends because they were just so much fun. I chatted with scientists and actors and all sorts of intelligent people who made my feel like my job is silly because I basically just say inappropriate things online and illustrate my points with GIFs.
If you do meet them, they might be a psychopath.
We are the Catfish generation, it's sad but it's true. And while not every guy you meet will turn out to be a completely different person – or want to keep you in the aforementioned sex dungeon – they might not be as awesome as they seemed when they had a phone to hide behind. You can get to know someone online for a long time, but you will never truly know what they're like until you meet them. Even I can come across as charming when I have time to consider what I'm writing (don't let this article lead you to believe otherwise). Maybe they're boring in person. Maybe their personal hygiene is somewhat lacking. Maybe they're just nervous, but you're picking up on psycho vibes so you clutch at your rape alarm until you can pop to the bathroom, never to return. Whatever the reason, be very selective about who you meet, and always follow the usual guidelines for keeping safe. And don't be too disheartened if you do meet up with a guy and he underwhelms you – there's plenty more matches on Tinder.
Remember, even Patrick Bateman was handsome.
Being handsome doesn't make someone a trustworthy person. Neither does sharing mutual friends. The ones who tell you how pretty you are aren't always sincere – sometimes it's the ones who call you 'knobchops' who are the cool guys. So no matter how good looking, charming or impressive a person might seem, remember that you never know who has a chainsaw until you go back to their place.
It's an ego boost…but in a very odd way.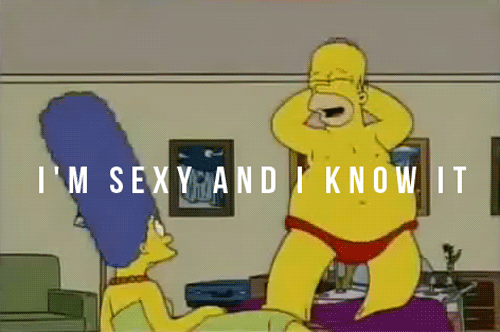 People are judging you on your photos, so if you match with someone, it means they find you attractive. Sometimes guys will open with a compliment, which is lovely, but sometimes what seems like a compliment will actually seem like an insult when you reconsider exactly what they said a few hours later. 'Wow, you're hot' = compliment. 'Wow, you're hot – why are you single?' = 'What the fuck is so wrong with you that no one wants to date you in real life?'.
Guys will think you're DTF.
A lot of people are only using Tinder to meet up with locals for no-strings sex, so if you're swiping through potential guys looking for your Mr Right, then think again.
Be clear about what you're looking for.
If you're only using the app for fun or you're not in a big hurry to meet perfect strangers, it's better people know because they can get very pissy when you refuse to swap numbers or meet up with them after only exchanging a few messages.
You're going to get sexually harassed.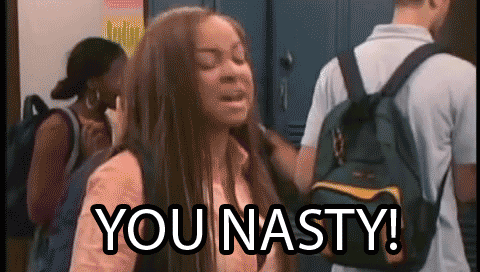 Call me old fashioned, but I at least like a little small talk before I am propositioned sexually. Don't expect such a courtesy on Tinder though, with winning opening lines like 'Sit on my face' and 'So, do you spit or swallow?' – at least the latter is a sort of get-to-know-you question.
Brace yourself for dick pics.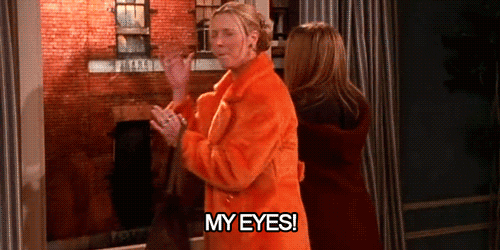 Dicks, dicks, everywhere. Some people don't waste time posting photos of their face, they just show you the goods. You'll see some weird and wonderful wieners on Tinder, but like me you'll probably be more inclined to say no, because they're mostly just weird. Some people don't even post their own junk, it'll be photos of weird sex toys – some a hardened perv like me couldn't even identify. Just be careful not to swipe right as you frantically try to make the naked men not be on your phone screen while you're on a busy train.
Bewbs.
Not only are you going to see lots of naked dudes, but some will expect you to follow suit. It's amazing how fast some guys go off you when they realise you're not going to get them out for the lads.
Some boys don't take rejection well.
Come on, baby, you swiped right. You clearly want that D. As if after chatting to them you've gone off them. It's definitely not because the guy has the personality, charm and sex appeal of a sock, it's definitely just the girl being a bitch.
Be prepared for glitches.
Every now and then, Tinder will match you with someone who lives really far away, someone who clearly isn't the age they claim to be or even a member of the same sex. What's weird is when you accidentally swipe right on a chick, get a match and hit it off more so than you did with any of the boys. If there's one thing Tinder needs, it's a 'friend zone' button.
You might meet a celebrity
Yes, even famous people use Tinder. Well, famous-ish. I'm yet to spy anyone properly famous – the closest I've got was some guy from a boyband that I had a crush on when I was, like, twelve. He hasn't aged well, all it did was depress me.
Be certain of who's who.
It is a tried and tested Tinder trick to post photos of yourself and your hot friend, on the off chance you'll get a match based on your friend's face, but your dazzling personality will win them over eventually and it won't matter. No, just no. If you flick through the photos you'll often find one that confirms which person you're matching with. What Tinder needs is a third swiping option for if you're interested in their hot friend instead.
Watch out for puppy love
Sometimes I swipe right because they have a cute dog – I don't even look at the person holding it.
I'm also blinded by uniforms…
…because who doesn't like a man in uniform?
It's fun when you're bored.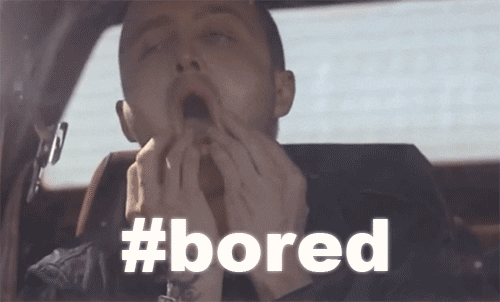 When you have nothing to do, you'll find that you can aimlessly flick through people on Tinder until you run out of potential people, and even when you do, you have all these new friends in your phone to chat with and get to know.
It's fun when you're really bored.
If you've run out of people to swipe through and no one has anything interesting to say, change your gender preferences. See what the same sex has to offer, and realise that women can be just as scary as men. And vice versa.
Nothing beats seeing someone you know.
Your boss, that prick who bullied you at school, your male friend who you thought was in a relationship… Because Tinder shows you people who live near you, you can expect to see a whole bunch of people you know in real life using the app. While I'm sure the appropriate etiquette is to politely ignore each other, if it's a person I don't despise, I'll swipe right and make a big old scene. Some of my longest conversations on Tinder have been with people I already know in real life, and have on every other social network, ever.
You'll miss your ex boyfriend.
Better the devil you know than the devil you don't, right? While that may or may not be true, you'll certainly start asking yourself these types of questions after a day of chatting with back-to-back weirdos.
You'll feel like a bit of a slut.
There's no romance on Tinder. You are basically casting many lines and reeling in a whole bunch of fish at once, only you seem to prioritise different fish at different times, depending on how fishy they seem. The thing is, because you hardly know anyone, you can't simply cultivate relationships one at a time, so you end up with a few potentials…and then you have to pick, but what if you pick the wrong one? Unless you're good at juggling multiple dates (and, let's face it, one at a time is hard enough) it's a bit of a nightmare.
Understand the euphemisms.
You'll be making decisions based on few photos and a short bio if you're lucky, so you need to read between the lines. If they over-use the word 'banter' they're probably a bit of a twat. If they live for the weekend, they're boring the other five days of the week. If they say they're brutally honest, they're probably just rude. People who 'say it how it is' have no filter. If they insist their friends made them sign up against their will, they're too proud. If they're looking for someone 'open-minded' then they usually have something odd going on/some strange sexual request that is going to take a special person to understand/say yes to. And so on and so forth.
When you match with that super-hot guy…
…no explanation needed.
Everyone is the same.
When flicking through the menfolk, you often get a strong sense of déjà vu because almost everyone is exactly the same. It's always the same old tattoos, the same Geordie Shore get-up, the same old photo with the poor sleeping tiger. Oh my God, do you have a beard? That must have been so effing hard for you to neglect to shave, you're such a brute. Deffo put a little "beard banter" in your bio, and maybe something douchey like 'I won't shave my beard for you' – 'cause we're all thinking how amazingly wonderful you'd be, if only you shaved that damn hipster beard off. If people have a photo with their child, they always express how much they love them, like we were all thinking you hated your own child until you told us otherwise. The only thing funnier is when people have a photo with a baby and categorically state 'the baby isn't mine'.
Expect to see your matches out and about in public.
Remember that you are dealing with people who live locally, so it isn't weird to share hangouts. This means that you might bump into that guy you got bored of flirting with while you're doing your shopping. Basically, be careful about shitting where you eat.
Watch out for stalkers
People know roughly where you live, they know who your mutual friends are and anyone who has seen an episode of Catfish knows how to reverse image search now. If you're lucky, the scariest it will get is that unsolicited Facebook friend request from a guy who you know you never told your surname. At worst, watch out for creepy weirdos trying to "bump into you" in public.
The inevitable "Tinder Moment"
Once you get chatting to someone, it's only a matter of time before their "Tinder Moment". You've been talking for a while, you're into all the same stuff, he's smart, funny and handsome… and then it happens, he says or does something that makes you realise:  'Ahhh, that's why you're on Tinder'. It doesn't matter who the other person is, or how perfect they seem, there's always a moment, and if you're currently chatting to someone and it hasn't happened, then just give it time. Of course, you're also using the app, so there's possibly something wrong with you, too.
There's still going to be that one guy…
Your mental synchronisation can have but one explanation: the two of you were just meant to be…
…until his "Tinder Moment".
It must have been love, but it's over now.
Don't forget the real world.
During my stint on Tinder, I actually met some pretty cool dudes in the real world.
The conclusion…
If you want a laugh when you're bored then have a mess around, by all means. If you're actually looking for someone to start some kind of relationship, stick with the real world, kid.
Full-time writer, reformed groupie, geek chic gamer and Henry Cavill enthusiast. Showbiz: www.fleckingrecords.co.uk | Girly: www.girlpanion.co.uk