Considering dating a guy you met online? Brace yourself…
October 23, 2014
We're all fans of internet dating sites here at Girlpanion HQ but it apparently seems like out of all of the dick pics and cheesy chat up lines, sometimes you can be convinced to go and do outside things with these total strangers.
Turns out that it's all just as shocking as you'd expect and internet dating does nothing to help alleviate the stigma surrounding it.
In the search for true love (haha) we donned our heels and our lip gloss and set out on our mission to see what happens when the internet becomes realsies.
Here's what we learned…
Guys lie about their height
Now we're not sure if this is like the male "I'm definitely a size 12″ but I'm a dead on 5'7″ on a flat shoe day, so there's no way I should now be taller than you, Mr 6'2″. Every guy was smaller than they claimed on their profile which makes it a nightmare when trying to choose your outfit accordingly.
There will always be one who looks nothing like their photo
I mean he does a little bit, but don't rock up to the date and say "oh yeah, they were taken five years ago when I went travelling". Oh so you mean when you were tanned, happier, smaller and younger? This was one of the worst dates ever though, because he didn't take his sunglasses off from the entire date (even inside!) and they were those mirrored ones, so all I could see was my own pained expression throughout the entire experience. He also went in for a kiss which caused me to fall off a park bench whilst trying to swerve him. No, really.
Boys will sometimes think they're better than you
This guy rocked up wearing a shirt, jumper, cords, quiff and a leather satchel. All he was missing was a corgi and Prince Harry as his wingman. All I can remember about the date is him talking about his dissertation, Beyoncé and university. I was so bored I decided to start counting how many times he stared at my cleavage (42, incase you were wondering) and he then informed me that he would "ponder our future on the train journey home". I don't recall proposing during out brief 37 minute date but I do remember his extreme sense of self importance.
They WILL try it on
This probably isn't exclusive to internet dating and, if anything it's probably reassuring that they are real. There was this one guy who was giving me a lift home after our date, who conveniently left his keys at his place so we had to go and get them. Fast forward five minutes and there were unwelcome hands all upon my derrière, asking me to stay. I think not, you only bought me an orange juice.
You'll have some pretty fun dates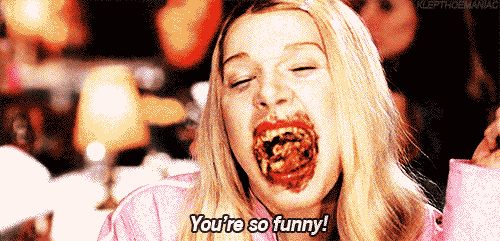 If you turn up with zero expectations you could end up being surprised and have some fun. My most memorable date is probably the guy that turned up with ketchup on his face. He was your typical hipster stereotype, right down to his big glasses and skinny jeans, but he has some hidden accessories in the form of novelty robot sock he proudly shouted about in the bar (where midgets were the waiters…!) and also the ketchup he had on his chin. I stared a lot (admittedly this wasn't much of a hardship because he was very pretty) and eventually got round to asking what he'd eaten that day and he had in fact had a burger at lunch…which would have been awesome if it wasn't now 9:30pm – and you're still sporting your Heinz beard. Still makes me chuckle when I think about him.
It's awkward
Dating is always awkward. But when you've spent time messaging and then texting, you feel like you know everything. Then you meet and you realise it's weird because you're strangers but yet you know what he had for his tea and where he went with his mates at the weekend but now you're worrying about not snorting when you laugh and if your eyeliner has smudged and totally lose your cool. Usually you'll find that they're nothing like the person that you've come to know because they're shy. Shy or weird. It's up to you if you want to stick around for a few more dates to figure out which one they are.
Boys can be really mean when they can hide behind a computer
These are ones I never dated, but if you do sign up to a dating site, especially the free ones, be prepared for some trolling. You'll need a thick skin for some of the messages you can get through. Apparently boys still think fat jokes are funny.
Manners and chivalry no longer exist
Now, I'm not going to admit to how many dates I conducted this research over but we can safely assume it was a lot. What? We like to be sure! But I can honestly say that chivalry was not present on any of the dates. I don't mean in paying your way (will that argument over the bill ever be anything other than awkward?!) but it would be nice to have a door held open or a chair pulled out. But no, no, John Hughes did not direct my life.
The date is always your choice
There's a little box where you can fill in your brilliant date idea but most of the fellas will usually put "nice drinks in a bar or whatever the lady wants" which is pretty boring. I mean, you're expecting me to go through the stress of outfits and hair styles – the least you could do is try and come up with something fun and outside the box. Especially when you're trying to get into our box. Up your game! I've only ever had one person decide what we were going to do and it might be related but we ended up going on six dates before he moved to Australia, which I'm sure was completely unrelated…
Catfishing is a real thing
This probably needs an article all by itself, but whilst I didn't have the help of Max and Nev, it was still just as traumatising. If you thought ketchup face guy was a turn off, imagining having to ask your date if his Mum knew what he'd done I was expecting to meet a 25 year old Irish law graduate. What actually flew over from Ireland (yes, really) to meet me was a 17 year old college student. OMG awkward.
All in all, internet dating is a good laugh and is a good way to get out in the real world and see how the other internet hermits are living, but generally we'd probably recommend sticking MTV on, watching Catfish and merrily swiping your way through Tinder to get your fix. At least that way you can do it in your onesie and it doesn't matter if you're the one with ketchup on your face.